August 16, 2004
Hand the boy his medal (and a kleenex)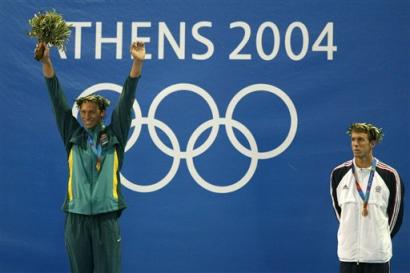 Congratulations to Ian Thorpe for winning the Olympic gold in the 200 Freestyle. The olive branch crown was lovely on his still-wet locks, however, the booger/snot on his right cheek wasn't as appealing. Hat tip to my dearest R for "having the observation skills necessary to locate said booger/snot." Thanks, dear, for making the medal ceremony more bearable for us devoted patriotic American fans. (I will post a close up shot as soon as I can find one).
Michael Phelps adds to his medals by swimming a personal best and earning a bronze. We still love ya, Michael :)
Display Comments »


Pass the Pride, Please
The Olympics is doing nothing for me getting my house cleaned.
I love watching even the mundane sports like Shuffleboard and Archery. I do draw the line at Bowling, though. Well, wait. Now that I think about it.....
Competitive to a fault, I love watching the best of the best. All of my girls have R's determination and my competitiveness and I do believe that one day we will be sitting in the stands watching one (or more) compete for the glory of her country and sport for the gold.
I love how the Olympics bring back memories of the dreams we had as children. I love seeing the glittering little eyes as we watch. I love the pride in country it inspires. I love the respect it demands. I love that every four years (actually two, now) my children can find a hero worthy of emulating. I love the Olympics. Can you tell?
Display Comments »


August 14, 2004
One Down, Six to Go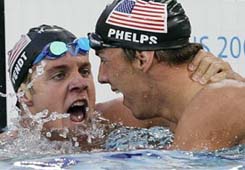 Congratulations, Michael Phelps and Erik Vendt on Olympic gold and silver (respectively) in the 400 Individual Medley. Extra accolades to Phelps for setting a new world record (breaking your own just set last month).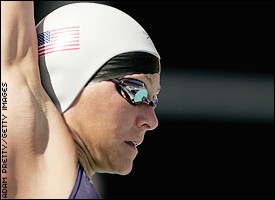 Congratulations also, to the U.S. Women's 4x100 Freestyle Relay Team for taking the silver and to Jenny Thompson for acquiring her eleventh medal.
Display Comments »