Please join us in the drawing room
After checking out as many books as our five cards allow from the library, we raced home to watch President Bush and John Kerry. I sat listening in the van in the garage while E relayed the message to R to haul the television up from the family room to the living room (better reception- we have no cable or DirecTV). I want for our daughters to be involved in the political process. I want them to be engaged enough to ask questions and make statements they can defend.
That said, I think that Kerry was composed (and all debaters know that confident presentation does have merit). President Bush wasn't necessarily not so himself, he was just more relaxed (IMO). I am unchanged for whom I will vote. George Bush is a man that I feel that I can trust to be both empathetic and resolute. I think he has proven himself thus.
A few things I particularly enjoyed:
Kerry: "I've been fighting for proliferation, uh, anti-proliferation....."
Kerry: "Yes. We have to be steadfast and strong. I have always have
been and am."
Bush: "The senator saw the same intelligence I did (concerning pre-
war intelligence information)."
Bush: "What's he gonna say? 'Please join us in Iraq for a grand diversion
for a wrong war, in the wrong place, at the wrong time'?"

Of course the ladies of household were, umm, drawing while listening. Our humble offerings: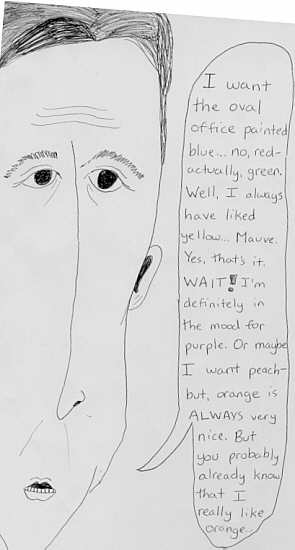 By the always talented E.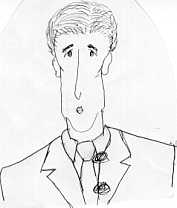 Moi (the black blobs of ink were there when I began).
Display Comments »